Welcome to Puente Hills Ford
We have been to multiple car dealers and only Ford was able to come thru for us when it comes to the price, to the %interest and monthly payment we are comfortable with a car we want. We walked away happy with a brand new FORD Bronco Sports. Hats off to Hamlet and Brendan for their superb customer service!
The staff there want to see you happy 😊 Everyone is so very helpful! Will definitely share my experience there with others!
They are the best . Looking forward to work with them again for 2024 maverick lariat
Had a great experience here getting my F150 repaired under warranty. They completed it quick and were very communicative with where it was at while waiting on a part. Will come back next time I need work done for sure.
The service provided to my card was great. Staff was friendly, my car was completed fast
great care good service drop off and pick up to and from work while vehicle was worked on, thank you Michelle.
Ken was great. Very helpful and king . I Highly recommend to everyone! Great service over all
Fast, honest, service. They make me feel comfortable waiting, I know I am getting great service here.
They are great. Always good service, always have time to check my vehicle. Thank you for your excellent service.
Michelle was extremely helpful and very eager to address all of my concerns. She even went the extra mile and addressed recalls that I was not aware of.
Michelle was wonderful and helped all the way. Your the best 💕 Highly recommend to everyone.
Michelle did an excellent job, very helpful. I call requesting status of my car, she responded by saying that she would call me back and she did. Thank you.
Excellent sales people, manager worked directly with client, repeat client for these sales people, would go back again
Excellent help and staff. Would definitely recommend this dealer to friends and family. Great customer service
Brendan is very professional financial manager. I recently bought 2023 maverick lariat couple days ago. He went above and beyond. He did everything it took to make the sale. He is very clever and knowledgeable person. Personally I am very like him! . He know how to make customer happy and like to spend money to them. The whole team is awesome. If you wanna buy car. I am highly recommend both Brendan (financial manger )and Maurice ( sales person). I am in market again with them for 2024 model. I am beyond grateful and pleased. Thank you for your guys service.
Was so helpful and I appreciate that he was able to get me into a car, Thank you so much!!
Abner was very helpful always answering my questions was very professional. satisfied working with abner
The fact that Puente Hills Ford is under new management is clear and evident. The property is very clean and in order. The selection of vehicles was very good. I purchased a Mach E and the entire process was very professional and put me at ease. If you are looking for a car I highly recommend a visit to Puente Hills Ford. The staff was very hospitable and made my purchasing experience excellent. Totally satisfied. Thanks to Terrell, Adam, and Brendan.
You can tell the difference in ownership! This team was great. Transaction was very smooth and felt like I can refer them more clients. It's been a long time since I felt this way about any car dealership.
Pleasant employees with knowledge and understanding. Very pleased with service. I am completely satisfied. Thank you.
I wasn't expecting to buy a car, and walked out with a new car that I'm happy with, Great Experience
I ordered 2023 Hybrid Maverick in Sept. 2022, and finally went to Puente Hill Ford dealership to pick-up on Sept. 8, 2023. I was very excited and happy to pay it off. Couple weeks later, I reviewed my signed document and had some issues about purchased some options that dealership offered. I contacted dealership and Aydin Hamouni, sale manager, took care of everything that I needed. He responded sincerely and professionally. It was more than I expected. It made me feel like a VIP customer. 5 stars customer service.
I have always trusted Michelle Sanchez. She has exemplified the utmost professionalism and exemplifies true customer service. Where she goes our vehicles go. Thanks much, FORD family!!
Great service from ford Puente , they really help me out picking the right car for me .
Great customer service, great service!! Highly recommend. They took care of me as promised when I bought my bronco from them.
Service For Your Vehicle, Peace of Mind For You
Get the most out of your vehicle from the techs who know it best.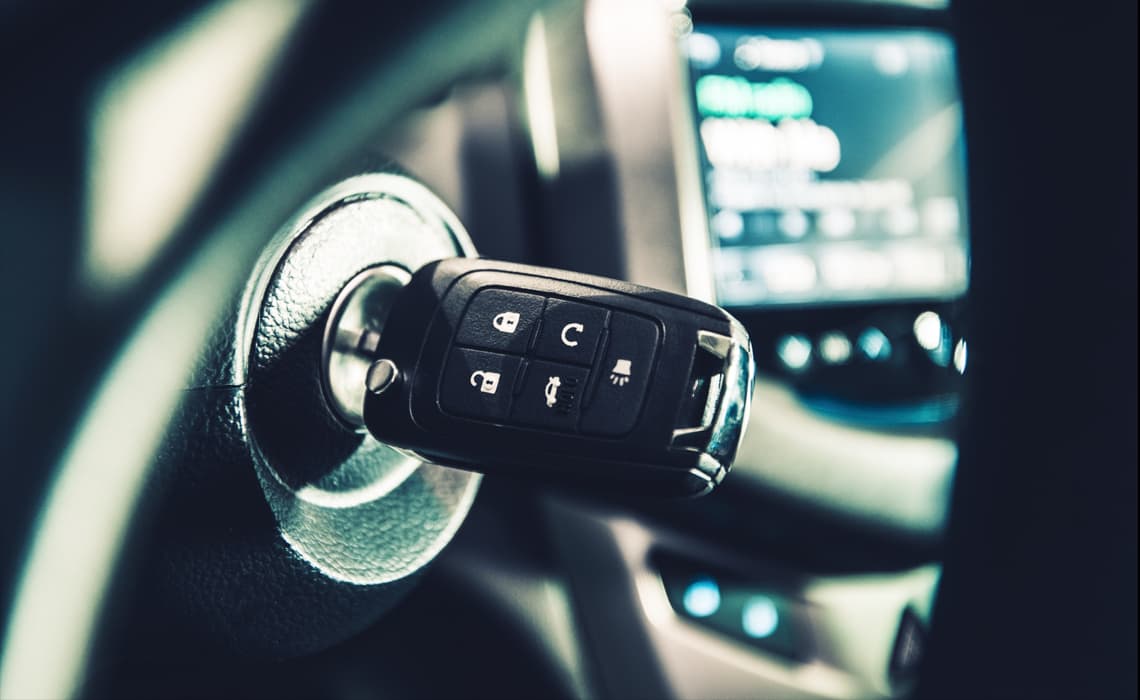 Sell us your car, even if you don't buy from us.
We're always looking for vehicles to stock our lot with. Get an easy, no obligation, online quote for your vehicle.
Start early, get approved online before you shop.
Fill out our quick credit application and we'll work with you to find the right vehicle that you can afford.
Built for the
Road Forward
Your job has never been tougher. And we'll be here to help you keep working. Ford Commercial Vehicles are engineered to withstand the severity of everyday on-the-job duty.
Welcome to Puente Hills Ford

Welcome to Puente Hills Ford
Are you looking for a new Ford in the San Gabriel Valley? You don't have to go far to find first-class Ford sales and service. Just head over to the City of Industry, California, where you will find Puente Hills Ford!
As the premier Ford dealer in the City of Industry, we're home to a dynamic new and used inventory, a dedicated finance and leasing center, and a modern service center. When you work with us, all of your car-buying and ownership needs can be handled under one roof!
New and Used Fords for Sale
We carry a wide selection of new Ford vehicles, including favorites, like the F-150, the Explorer, and the Mustang Mach-E. Every vehicle in our inventory can be explored by using the search engine and picking out the proper filters. Once you've completed a search, you can scroll through your results and see which models match your requirements.
If you aren't in the market for a brand-new ride, know that we're also a trusted used car dealer, with a great inventory of pre-owned vehicles from a variety of automakers. Some of our pre-owned cars provide extra perks that lend even more value to your purchase.
Whether you come to us knowing exactly what you want or you're not quite sure which model will work for you, our friendly associates will be ready to meet you where you're at in your car-buying journey and get you across the finish line.
Carefree Leasing and Financing
If you're looking to lease or finance your next vehicle, head to our dealership, where you'll find competitive lease and finance specials as well as amazing financing offers and rates on new Ford vehicles. A finance expert can guide you through either route and help you decide which payment plan may be ideal for your needs.
We also have an extensive collection of quality used vehicles at affordable prices to suit your needs. Make sure, whether you're after a new or a used car, that you explore our new and used vehicle specials.
The friendly faces in our finance center are here to offer a transparent leasing and buying experience. They can field any questions you have and discuss your driving goals with you before you commit to a plan.
Certified Ford Service and Maintenance
A major advantage of working with a certified Ford dealer is that you have an established place to get all manner of automotive maintenance and repairs completed. Our service center is staffed by factory-trained experts who use state-of-the-art equipment and genuine original equipment manufacturer (OEM) parts for every job.
We also have a parts center on site to make repairs and replacements more efficient. If you're interested in adding accessories to your car, we carry a slew of Ford components that will give your car a boost in convenience, comfort, and utility.
Visit Puente Hills Ford to Begin Your Car-Buying Journey
When the time is right to start your car-buying journey, make the short trip to the City of Industry, CA, so that our Puente Hills Ford can give you the VIP treatment you deserve. If you have any questions beforehand, contact us online or call us for more information. We can't wait to meet you and get you behind the wheel of your dream car!
Contact Us
Located in City Of Industry, CA
17340 E. Gale Ave. - City Of Industry, CA 91748
Puente Hills Ford
17340 E. Gale Ave.
City Of Industry, CA 91748
Sales:
(626) 346-5900
Service:
(626) 346-5901
Parts:
(626) 346-5902
Directions