Ford EV for sale near Chino Hills

Whether you're craving incomparable efficiency, jaw-dropping exhilaration, or expanded capabilities – making the switch to driving an all-electric vehicle has become more popular than ever before. If you've been curious about the advantages of owning an EV, the charging process, and the plentiful choices available across the growing Ford lineup of electric vehicles – you've found the right place. Puente Hills Ford has created an in-depth reference guide that covers the many benefits of joining the all-electric driving innovation with a Ford vehicle.
What's the Difference Between a Hybrid, PHEV, and EV?
Hybrid – A vehicle that's powered by a traditional gasoline engine that also features a battery-powered electric motor readily available to assist the engine. This combination delivers increased efficiency without any compromises on vehicle range. Current Ford Hybrid models include the Escape SE Hybrid, Explorer Platinum, F-150 Powerboost, and Maverick.
PHEV – PHEV stands for Plug-In Hybrid Electric Vehicle. This type of vehicle builds on the concept of a hybrid through its ability to drive using solely electric power from the onboard battery. Unlike a traditional hybrid, a PHEV can be plugged into an electrical source to recharge the battery. Think of it as a middle ground between a hybrid and a pure electric vehicle. Current Ford PHEV models include the Escape SE PHEV.
EV – EV stands for Electric Vehicle and is the most common term used to refer to the class of vehicles that are powered by using solely electricity. This is the newest and fastest-growing segment of vehicles in recent years and more to come. Current Ford EV models include the E-Transit, F-150 Lightning, and Mustang Mach-E.

Advantages of Driving an Electric Vehicle
Transitioning to an all-electric vehicle offers a myriad of benefits and advantages that are just too hard to ignore. No matter if you're trying to say goodbye to spending money at the gas station or looking to experience euphoria behind the wheel – listed below are some of the most impressive perks that come from driving a Ford EV.
Instantaneous Acceleration
As you step on the accelerator of an EV, you'll instantly experience an immediate response with an instantaneous torque delivery. Since there's no lag time and significantly fewer moving parts to experience power delays, every all-electric vehicle offers an exhilarating and thrilling performance that their conventional counterparts can't match.
Lower Cost of Ownership
The best part about driving an EV is that you'll save money in many more areas than you probably imagined. The first most obvious category of savings stems from the fact that you'll never have to visit a gas station to purchase fuel. The cost of recharging at your home, office, and a public charging station is far less than you're used to spending at the pump. In addition, EVs have significantly lower maintenance costs since they don't require oil changes and have far fewer moving parts than a conventional vehicle. With less moving parts in an EV, there is less room for mechanical errors, therefore no more last-minute trips to the service center and delayed plans.
Environmental Benefits
Due to the fact that electric vehicles operate with zero tailpipe emissions, you'll be able to drive with the satisfaction that comes from knowing you're doing your part to help preserve the environment.
Smooth, Serene Driving Characteristics
Thanks to their electric powertrains, an EV cannot be beaten when it comes to delivering a driving experience that's both smooth and quiet. From both inside the cabin and outside of the vehicle, no other type of vehicle can match an electric vehicle when it comes to refinement.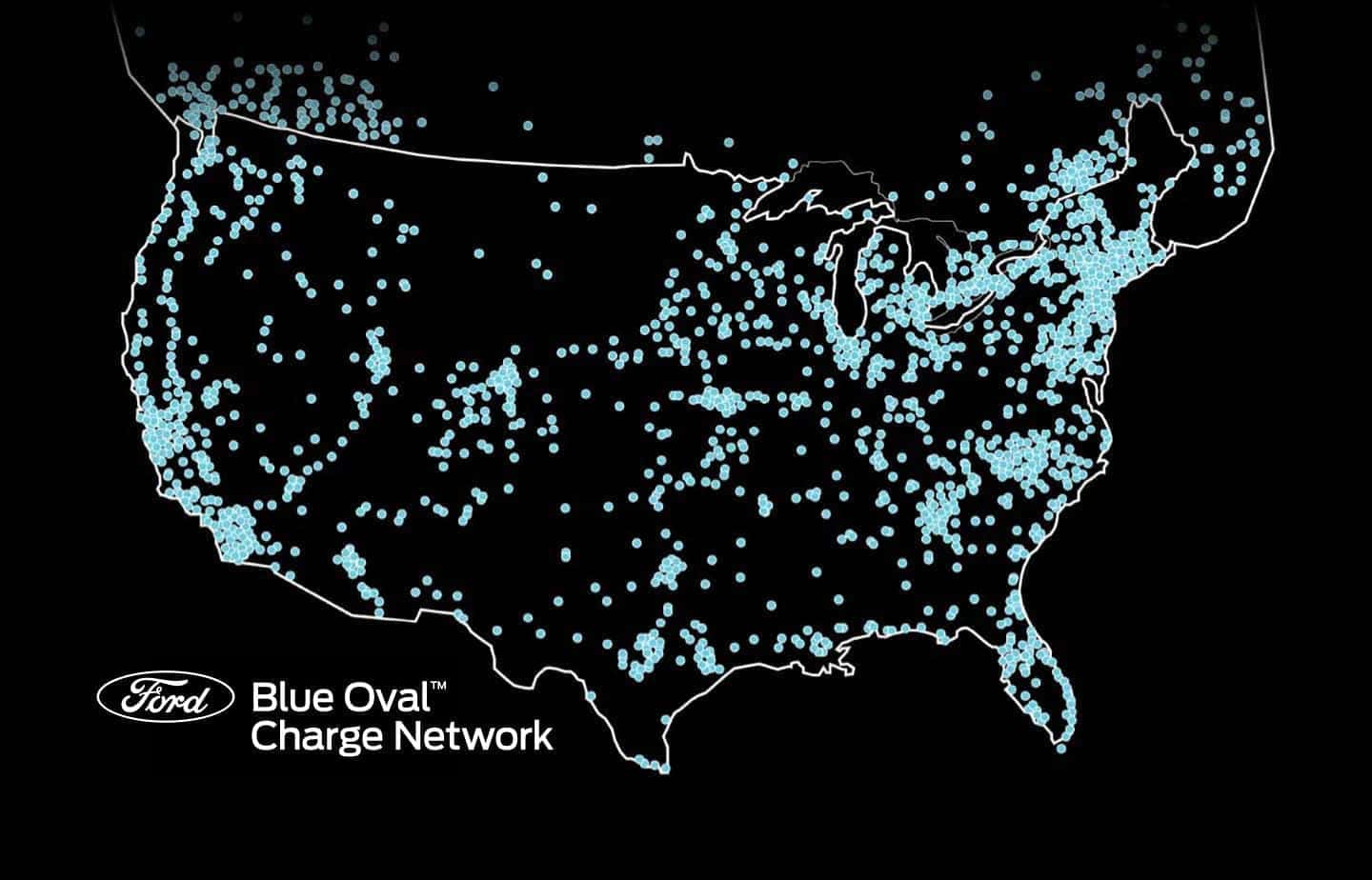 EV Charging Guide
Charging is one of the most common concerns that come from a potential EV shopper. The good news is that Ford electric vehicles offer more charging solutions than before. No matter how far your traveling plans take you – across town or across the country, charging your Ford EV is simple and straightforward. Included with your new Ford EV is access to the exclusive Blue Oval™ Charge Network – the largest public charging network in North America offered by automotive manufacturers. In addition to public charging station access, Ford EVs offer solutions for charging at home as well.
Level 1 Charging
Included with virtually all EVs is a Level 1 EVSE charging cable. This cable allows you to charge your vehicle using a standard 120-volt household outlet. The downside to this convenience is the slow charging time, usually no more than 2 to 5 miles of range gained per hour. Level 1 charging is intended primarily for emergency situations or topping off a vehicle that's parked overnight.
Level 2 Charging
For the ultimate way to keep your EV fully charged and ready for the day's journey, Level 2 charging is the best household solution. Using a dedicated Level 2 charging station in your garage or driveway, you can typically add between 10 and 60 miles of EV range per hour. It's important to remember that Level 2 stations require 240-volt electrical service in order for them to be installed. Ford offers a list of qualified installers who will ensure that your charging station complies with local, state, and national regulations.
Level 3 Charging
Also known as DC Fast Charging, Level 3 charging takes advantage of high-powered 480-volt power to restore your EV battery rapidly. Fast charging stations are found across the growing Blue Oval™ Charge Network of stations located near high-traffic areas like rest stops, shopping centers, or office complexes.